FREQUENTLY ASKED QUESTIONS
DO YOU HAVE INTERNET ACCESS?
We have free wifi available to customers in Massarella's Restaurant. Please ask restaurant staff for the key and password.
HOW DO I CONTACT THE MILL?
If you have a question which isn't answered here, please Contact Us
WHERE ARE YOUR TOILETS LOCATED?
Our main toilet facilities are on the 3rd floor in Massarella's Restaurant.
Disabled toilets are on the ground floor near the Radley Outlet, and in the Garden Centre.
DO YOU HAVE ANY JOB VACANCIES?
For current vacancies click here: Vacancies
WHAT DISABLED FACILITIES DO YOU HAVE?
We have designated disabled parking spaces at the front and rear of the building. There is lift access to all floors and we have disabled toilet facilities on the ground floor in the terrace and the main building near Reception.
Customers may also borrow a wheelchair if required - please book in advance if possible by calling 01924 423172 to confirm availability.
WHAT FACILITIES DO YOU HAVE FOR BABIES & TODDLERS?
Our restaurants have high chairs available and have facilities to warm milk or baby food. We have changing facilities on the 3rd floor in Massarella's Restaurant.
There is a small toddler play area and coin-operated rides in Massarella's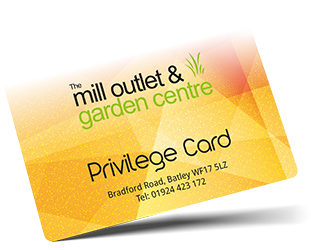 Sign up today to enjoy news and fresh discounts every month. 
Remember to collect your Privilege Card in store to enjoy exclusive discounts and offers.